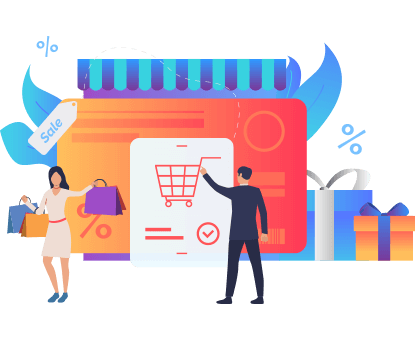 eCommerce website enables you to draw your customers towards your business barring regional barriers. If a company decides to generate extra revenue through an eCommerce business, they need an eCommerce development company that works tirelessly to deliver the best online store for its clients.
An ideal eCommerce website has features like user-friendly layout, seamless navigation, easy management of content and products and reliable digital marketing strategy. We aim to provide our clients with these essential features and more to make their business well known overseas.
Trinity Unicepts is an efficient eCommerce Website development company.
Trinity Unicepts has acquired expertise in eCommerce website development through working on several eCommerce projects. We provide services of custom eCommerce website development for small, medium and large scale industries.
Our proficiency in eCommerce platforms like Magento, OpenCart and WooCommerce has provided a chance to deliver excellent results to our clients.
Building a comprehensive eCommerce website is the first step towards setting up an online business. We ensure to develop an eCommerce solution that is feasible as well as profitable.
We customise the eCommerce store according to our client's needs to accommodate functionalities according to their requirements. We always aspire to deliver the best eCommerce solution to our clients that fetches quality leads and an ample number of conversions.
Similar Services
Services if you are interested.....
Tell us more about your project!
Make Something you Love.