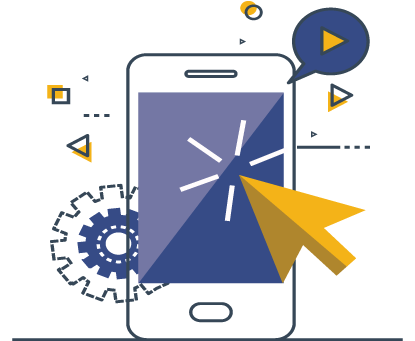 PPC or Pay Per Click falls under the umbrella term of digital marketing. In this service, the advertiser has to pay an amount when his/her ad has been clicked on by a visitor.
PPC services:
Through PPC services your ad will get a superior spot in search engines from where you can attract more visitors and convert them into customers. Hence, PPC proves to provide a considerable profit to your business.
Best PPC management company:
Trinity Unicepts provides effective PPC marketing services and has the calibre to give your business a kick start by its service of running PPC campaigns. Therefore it is the best PPC management company.
There are mainly four types of PPC:
Search PPC/Google PPC:
PPC campaigns are majorly run on Google Ads as most of the traffic is on Google. With the use of Google Ads, you can create campaigns pertaining to your niche where the audience can see your ad when they add a search query in any search engine.
Display PPC:
Display ads are those ads of sale you see on various websites. When clicking on the ad, you get redirected to its website.
App Installation PPC:
Mobile app owners want their app to be installed by a substantial number of people. To achieve this, the ads of their apps are put on various apps platforms which the users use and thus compels them to install their apps.
Youtube Promotions:
There are ways to promote your business on youtube through skippable video ads, non-skippable video ads and more. It depends on your business, which ad format would suit it more.
Your PPC campaign becomes successful due to four key factors:
Keyword Research:
Keyword research is an integral part of any digital marketing services. You can bid an amount on a keyword that you want to rank and it will show your ad on search engines.
Quality Score:
Google rates your quality score based on the relevancy of keywords and PPC campaigns.
Landing Page:
Landing page should include convincing content, a proper call to action button to get a conversion.
Innovation:
An innovative content for your business on digital platforms is essential to grab the attention of your potential customers.
How to manage your PPC campaigns?
Once your campaigns have been created, you need to do the tedious yet crucial task of managing your campaigns to get optimum results. The following points help to give momentum to your campaign:
PPC keywords:
Target relevant keywords for your business to get a significant audience.
Negative Keywords:
By adding negative keywords, you increase the relevancy of your keywords and decrease the chances of your ad to be clicked by an irrelevant audience.
Ad Groups:
You can split ad groups to deliver ads to a more specific and targeted audience.
Budgeted Keywords:
You don't need to bid on expensive keywords unnecessarily if they don't provide you with expected results.
Landing Pages:
Send your traffic to a landing page which has a clear call to action button to get conversions easily.
We have experienced Digital Marketers who take care of every minute detail you want.

We match our interests with your interests, which means your business somewhere becomes ours. We always listen and pay attention to your every demand.

Our team has experienced marketers who can suggest you the best for your business.

In this dynamic world, we always stay updated about the changes in the industry to give you qualitative services.
Similar Services
Services if you are interested.....
Tell us more about your project!
Make Something you Love.