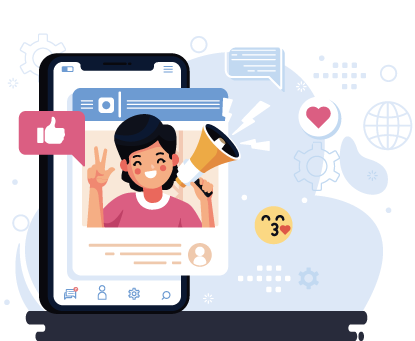 Ever wondered why your business doesn't reach a targeted goal or targeted audience? The answer to your frustrating question is SEO.
Search Engine Optimisation is helpful to make your website reach on the first page of Google search. However, it isn't a cakewalk to reach there with trillions of webpages competing to achieve the desired first-page spot.
Example: Imagine, you are a skilled chef who has opened a multi-cuisine restaurant which is prepared diligently and it has the best ambience. But the turn up of crowd is not as much as you expected. You probably would think what is wrong with my restaurant? In all the hustling and excitement to open a restaurant, you forgot to tell people that you're opening a restaurant. You might wonder how to spread this news? The answer is SEO. It helps your efforts get enhanced by showing your restaurant on the Search Engine Results Page (SERP). Through SEO, people would become aware of the location of your restaurant, get directions to reach it and thus improves the number of customers coming to your restaurant.
With ten years of experience, Trinity Unicepts is armoured with ingenious experts who help to significantly increase your website rankings and improve your search engine visibility.
What is SEO?
In layman's term, SEO is the technique used to give your website a high ranking and attract visitors to your website in the Search Engine Results Page (SERP).
Why is SEO Essential for your Business?
It is crucial for the website to rank on the top page of Google for your potential customers to become aware of your website. Without SEO, your site will get lost within ten pages of Google and will bear no fruits whatsoever.
A joke among SEO marketers is sure to tickle your funnybones. Where can one hide a dead body? On the second page of Google. It has been aptly said as visitors always look for results on the first page of Google and mostly never look on the second page.
How does SEO work?
The six main factors through which search engines gauge your website are: (Added)
1. Audit: Audit is the detailed assessment of your website wherein you check every prospect of a website that affects the ranking or visibility of your website.
2. Plan of action: It is the procedure after the audit to strategise the process to revamp your website.
3. Approval:Approval is needed for implementation of the strategy decided to remodel your website.
4. Keyword Research: It is a core task for SEO as your website shows on particular keywords search in search engines.
5. Website Structure:It refers to how quickly crawlers can find subpages of your website. In other words, the navigation of your site should be easy for visitors to find your products easily.
6. Results:They are achieved through organic SEO or Paid results. Organic results are the relevant sites that match the search query. Whereas paid results are advertisements for which the owners have paid to get their website displayed for specified keywords.
The Steps involved in SEO:
1. Website SEO Assessment: We assess your website to provide a strategy that fits the needs of your business.
2. Thorough Competitive Research: We understand your competitor's strategies and work in the direction to increase your online presence.
3. On-Page SEO: The flaws found in website assessment is fixed to make your website prim and proper.
4. Off-Page SEO: Off-page SEO contains the activities that are done away from your website so that it ranks higher in SERP.
5. Technical SEO: Through Technical SEO, your website is processed for crawling and indexing in search engines to get a higher ranking in SERP.
6. Backlinks: They are the hyperlinks generated from one web page to another website. Relevant backlinks are useful to get higher rankings in search engines.
7. Final Touch Ups: This is the step for the implementation of all the previous measures along with remaining updated with the changes in the SEO world.
We have experienced Digital Marketers who take care of every minute detail you want.

We match our interests with your interests, which means your business somewhere becomes ours. We always listen and pay attention to your every demand.

Our team has experienced marketers who can suggest you the best for your business.

In this dynamic world, we always stay updated about the changes in the industry to give you qualitative services.
Similar Services
Services if you are interested.....
Tell us more about your project!
Make Something you Love.