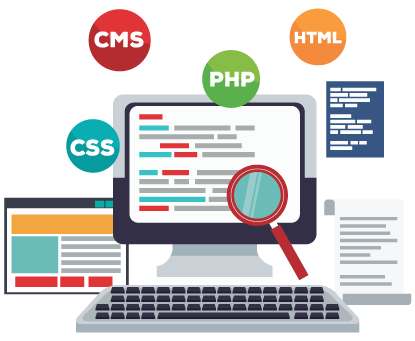 Hypertext Preprocessor (PHP) is an open-source general-purpose programming language used in website development.  It also supports MS SQL and Oracle databases.
Trinity Unicepts, with its proficient PHP developers, develop reliable websites for you.
What's new in PHP Development Services:
1. Beneficial for Small Scale Industries:PHP is the best option to develop applications for small businesses. As it is an open source, there's no need to worry about exceeding your budget and by using PHP platforms, you can spread your business widely and consistently.
2. PHP and IoT:With the association of Internet of Things (IoT) and PHP it will give rise to a revolution in the digital world. With its amalgamation technologies such as sensor devices, search adapters and more are used for a contemporary lifestyle.
3. PHP and Chatbots:Chatbots are the best example of Artificial Intelligence. With PHP, chatbots can be created with less time and are easy for the developers.
4. User Interface:PHP helps develop responsive websites, which are useful for the users. A humongous number of people uses Social media sites like Facebook, Twitter, Instagram etc. and E-commerce websites like Amazon, Flipkart, etc. To help them browse conveniently, the PHP developers ensure that the sites are responsive. Visual effects, 3D images, infographics are all the new trends to make your website engaging for your users.
5. Java and PHP:Java is known for its secure programming language and PHP for its rapidness. Merging these two will help enhance your website at a reduced cost.
Benefits of PHP Development Services
We have experienced Web Developers who take care of every minute detail you want.

We match our interests with your interests, that means your business somewhere becomes ours. We always listen and pay attention to your every demand.

Our team has experienced developers who can suggest you the best for your business.

In this dynamic world, we always stay updated about the changes in the industry to give you qualitative services.
Similar Services
Services if you are interested.....
Tell us more about your project!
Make Something you Love.